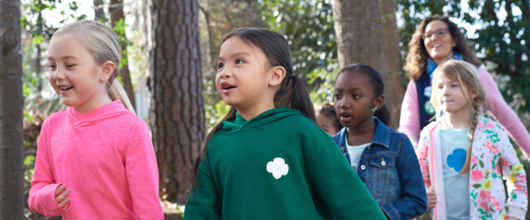 Already a member? Log in to renew.
When you unleash your inner G.I.R.L., you can accomplish anything!
At Girl Scouts, the next opportunity to stand up, speak up, and take the lead is never far away. With us, you'll discover the G.I.R.L. (Go-getter, Innovator, Risk-Taker, Leader)™ in you, and watch her shine, again and again.
Will you find a sustainable solution to a problem in your community? Will you explore the great outdoors? Build a robot? Learn to code? Conduct an experiment?
With us, the possibilities are truly endless. Discover all you can be and everything you can accomplish when you have the right tools and a safe space to shine—and work together to change the world. 
So what are you waiting for?
 
Already a member? Log in to renew.

Need to know more so you can decide what's right for you? Check out all the different ways to take the lead at Girl Scouts. Or, see all the exciting possibilities Girl Scouts offers for girls of all ages and choose your adventure.
Girls age 5-17 can register as Girl Members.
Online registration is now open for the 2017-18 year!
Annual membership dues for the year, October 1-September 30, are $40 each for girls and $25 each for adults.  You can register for the 2017-18 Girl Scout year by clicking the Join Today button above!
Summer Jump Start Programs

If you'd like to get in on the fun this summer, check out one of our Summer Jump Start Programs.  
You and your girl can begin your troop experience NOW by registering for our Girl Scout Summer Jump Start. For $30 girls get three 90 minute educational sessions where they will begin earning badge components and adults who register for $25 receive three 90 minute sessions of troop leader training to prepare you to lead a troop this fall. Not only will you both receive awesome Girl Scout programming, but as a bonus, when your girl registers for the 2017-18 year she'll receive a $30 gift card that can be used in the GSSEF retail store!  For more information on how to register click on a session near you, or email customercare@gssef.org.
Membership dues may not be transferred to another member and are not refundable.