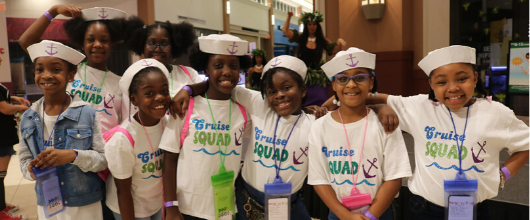 Signature Programs
We're thrilled to introduce our very own 2017 - 2018 series of exciting GSSEF Signature Programs. Be sure to save the dates for these awesome programs. Please continue to visit this page for the latest information.
2017 - 2018 Signature Programs:
October 14: BeHEALTHful - Facebook Photo Album
November 21- 22: Movie Mania - Registration is Closed
December 2: We Heart Welaka - Registration is Closed
January 13 and 14: Cookie Program with a brand new twist
February 24-25: Mall Madness - Registration Opens December 1
April 21 and 22: Journey in a Day (Its Your Planet Love It! series)
What are Signature Programs? They're exclusive council-sponsored programs that are large in scale and designed with totally unique and fun experiences JUST for Girl Scouts.   
Check out all the fun photos from our Signature Programs on the GSSEF Facebook page.
Registration is closed.
This up all night movie lock-in party is sure to bring out your inner movie hero! WOW! Enjoy music from a great DJ, choose from several movies (both new releases and some great kid-friendly classics) and party the night away! There will be an exclusive showing of Coco at midnight. In between the big screen attractions, feel free to purchase delicious snacks from the concession stand. POP! Pass the pop-corn, please! For additional information, see flyer. This program is open to registered Daisies, Brownies, Juniors, Cadettes, Seniors, Ambassadors and registered female adults. No tagalongs or male chaperones permitted. Registration is open for General Admission. VIP Admission has sold out.
Register here. Registration is open for General Admission. VIP Admission has sold out.
Where: Cinepolis Deerfield Beach at Deerfield Beach Mall 3984 W. Hillsboro Blvd., Deerfield Beach, FL 33442
Cost: General Admission - $28.00 per person. VIP check in: 8:30 p.m. General Admission check in: 9:00 p.m. Event ends 5:00 a.m.
For questions, contact Customer Care at customercare@gssef.org.
Registration is closed.
Come and experience the magic of Camp Welaka where Girl Scouts of all ages can enjoy the beauty of nature and the fun of being outdoors. You'll discover why Camp Welaka is so special.   
During this program, participants will discover what has made Camp Welaka special for many generations of past campers. Here is a sampling of the type of activities that are in store for you: canoeing on Lake Akalew, archery*, a treasure hunt hike, tasty treats made on a campfire, designing a nature-inspired memento, giving back with a camp-inspired service project, and so much more awaits you. To learn more, see the We Love Welaka flyer.
Cost: $18 per girl  and $10 per adult                                                         
Register here. Registration deadline: November 21

*Girls 8 and over will participate in archery. A fun program alternative
is available for girls 7 and under.
Mall Madness 2018 is Full of Surprises
Mark Your Calendar: Registration opens December 1

This year's Mall Madness is full of BIG surprises including a new location at Pembroke Lakes Mall in Pembroke Pines. We invite you to join us for GLOW the Mall on February 24-25. The 2018 theme will include glow in the dark activities, music, games, a NEON scavenger hunt and much more. Get ready to GLOW with us. Gather your best NEON colors to light up the night for a fun party celebration at our new location! For additional information, see the Mall Madness Flyer.

Mark Your Calendars
Registration opens at 10:00 a.m. on Friday, December 1, 2017. Last year, VIP sold out in less than 10 minutes. Login to your MyGS Community at www.gssef.org today to make sure your troop and adults are registered this year, so they don't miss out on this amazing program.  
Mall Madness is open to Daisy through Ambassador Girl Scout grade levels
VIP admission: $35.00 per person includes VIP express pass to VIP stores, exclusive entrance and priority admission, glow stick and VIP exclusive patch
General admission $30.00 per person will include program patch
GSSEF adult to girl ratios must be met  
Signature Program Volunteer Committee
Would you like to be part of the magic? We're seeking enthusiastic volunteers for our Signature Program Volunteer Committee. To help us learn more about you so we can match you to various Signature Programs and roles, we have created a short online application for you to complete.