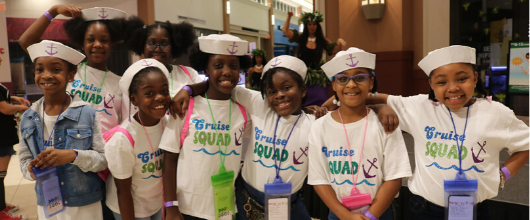 Signature Programs
We're thrilled to introduce our very own 2017 - 2018 series of exciting GSSEF Signature Programs. Be sure to save the dates for these awesome programs. Please continue to visit this page for the latest information.
2017 - 2018 Signature Programs:
October 14: BeHEALTHful - Facebook Photo Album
November 21- 22: Movie Mania - Checkout GSSEF Facebook for photos
December 2: We Heart Welaka - Checkout GSSEF Facebook for photos
January 13 and 14: Cookie Program with a brand new twist - Checkout GSSEF Facebook for photos
February 24-25: Mall Madness - Registration Opens December 1
April 21 and 22: Journey in a Day (Its Your Planet Love It! series)  
What are Signature Programs? They're exclusive council-sponsored programs that are large in scale and designed with totally unique and fun experiences JUST for Girl Scouts.   
Check out all the fun photos from our Signature Programs on the GSSEF Facebook page.
Mall Madness 2018 is Full of Surprises
This year's Mall Madness is full of BIG surprises including a new location at Pembroke Lakes Mall in Pembroke Pines. We invite you to join us for GLOW the Mall on February 24-25. The 2018 theme will include glow in the dark activities, music, games, a NEON scavenger hunt and much more. Get ready to GLOW with us. Gather your best NEON colors to light up the night for a fun party celebration at our new location! For additional information, see the Mall Madness Flyer.

Mark Your Calendars
Registration opens at 10:00 a.m. on Friday, December 1, 2017. Last year, VIP sold out in less than 10 minutes. Login to your MyGS Community at www.gssef.org today to make sure your troop and adults are registered this year, so they don't miss out on this amazing program.  
Mall Madness is open to Daisy through Ambassador Girl Scout grade levels
VIP admission: $35.00 per person includes VIP express pass to VIP stores, exclusive entrance and priority admission, glow stick and VIP exclusive patch
General admission $30.00 per person will include program patch
GSSEF adult to girl ratios must be met  
Signature Program Volunteer Committee
Would you like to be part of the magic? We're seeking enthusiastic volunteers for our Signature Program Volunteer Committee. To help us learn more about you so we can match you to various Signature Programs and roles, we have created a short online application for you to complete.