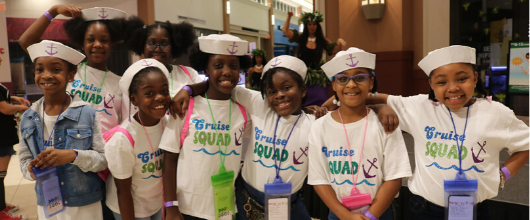 Signature Programs
We're thrilled to introduce our very own 2016 - 2017 series of exciting GSSEF Signature Programs that include Spooky Movie Mania in October, Welaka Winter Wonderland in December, Cookie Rookie and Great Cookie Campfire in January, Mall Madness in February, Journey in a Day on April 22 and many more. What are Signature Programs? They're exclusive council-sponsored programs that are large in scale and designed with totally unique and fun experiences JUST for Girl Scouts.  We'll be adding additional Signature Programs, so be sure to continue to visit this page to stay up-to-date on them.
Journey in a Day: It's Your Story Tell It! - April 22, 2017 (Daisies - Ambassadors)

REGISTRATION IS CLOSED!
Explore the "It's Your Story, Tell It" Journey all in one day presented by Publix Super Markets Charities at Camp Nocatee in Clewiston! This Journey gives girls the opportunity to tell their stories through a range of creative approaches. It's designed to strengthen a girl's sense of herself and boost her capacity to seek and meet challenges in the world. Girl Scouts at every age level will participate in workshops to complete their grade-level leadership awards. Spritz on some sunscreen, plan a picnic lunch, and pack up for a fun-filled, self-discovery day!
For additional information, see flyer. For questions, please reach out to Mica Minor at mminor@gssef.org.

Signature Program Volunteer Committee
Would you like to be part of the magic? We're seeking enthusiastic volunteers for our Signature Program Volunteer Committee. To help us learn more about you so we can match you to various Signature Programs and roles, we have created a short online application for you to complete.