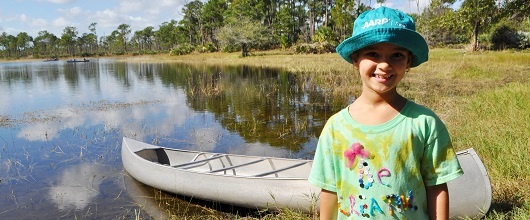 Camps & Facilities
Girl Scouts of Southeast Florida operates two camps, a Service Center in Jupiter and a Broward Administrative Office. Camp properties are used throughout the year for day and weekend outdoor programs, summer resident camp, Service Unit and Troop camping and outdoor activities.  Jupiter Service Center has a Girl Scout Retail Store. To get a glimpse of our beautiful properties, check out our camp video. 
To learn more about our Camps, please click on the name of the Camp listed below.  

Camp Welaka - We have important news to share about The Lodge at Camp Welaka here. (Posted Oct. 25, 2016)
Important News about The Lodge at Camp Welaka

We have important news to share about The Lodge at Camp Welaka. On October 6th, strong sustained winds from Hurricane Matthew lifted the Camp Welaka Lodge up from its foundation. This movement caused some unforeseen damage that weakened it. Council staff have already met with a structural engineer, and while repairs are required, the structural integrity of The Lodge can be restored.
This is unfortunate, but we are pleased to report, it looks to be a temporary situation. GSSEF is actively seeking the required professional repair bids, per our Council Financial Policies and Procedures, because we intend to repair the damage. We know how important access to outdoor activity and education is for Girl Scouts – we want girls and troops to continue to utilize and enjoy GSSEF camp property. Our highest priority is ensuring the safety and security of our members.
Next Steps
The next steps will include: receiving sketches from the structural engineer, selecting a contractor, coordination with the City's Buildings and Inspection team, repair period, inspections and finally the reopening of The Lodge. We anticipate this process will take place beginning now through February; therefore barring any unexpected delays or expenses, The Lodge can reopen in March 2017.
Steps That Have Been Taken

We also realize that this situation could potentially interrupt plans to utilize the property. Here are the steps we have already taken to share this news and accommodate our GSSEF Troops, Service Units, volunteers and girls:
Our Customer Care staff have already communicated with each Service Unit with a Camporee/Ingathering date, scheduled at Camp Welaka in this time frame, through its' Service Unit Volunteer Manager (SUVM). Each Service Unit, in partnership with the Camporee/Ingathering team, will be able to make a decision about the individual events. If you know that your Service Unit is affected, please contact your SUVM directly.
If you have any questions about this information, here's a list of contacts:
Information about The Lodge and it's repair schedule: Vice President of Properties and Outdoor Initiatives Cindy McHeran at 561-427-0179
Information about Camporees/Ingatherings: Troop Support Specialist Asha Robinson at 954-513-3762