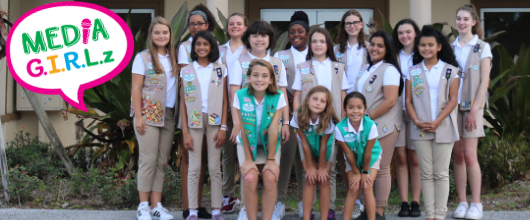 Media G.I.R.L.z
Media GI.R.L.z love the spotlight and talking about Girl Scouts.
They are outgoing, well-spoken and not afraid to be in front of a camera.
If this is you, we'd love for you to be part of the Media G.I.R.L.z team!



How to Join the Media G.I.R.L.z Team
We're looking for 10-15 Girl Scouts who ooze courage, confidence and character to join the 2018-2019 Media G.I.R.L.z Team. Open to Juniors, Cadettes, Seniors and Ambassadors, this team of Girl Scouts who are Go-getters, Innovators, Risk-Takers and Leaders will be the official girl faces and voices of GSSEF.

Interested in learning more? Fill out the online application form. Please make sure you read the participation requirements and expectations at the end of the application and upload a photo of your smiling face. All girls must attend one of the Media G.I.R.L.z interest meetings - either on Wednesday, October 3, 2018 from 6:00 - 7:30 p.m. or Tuesday, October 9, 2018 from 6:00 - 7:30 p.m. at GSSEF Administrative Headquarters located at 6944 Lake Worth Rd, Lake Worth, FL 33467.  At the meeting, each girl will participate in a short, videotaped interview. 

The Media G.I.R.L.z Application Deadline is
September 27, 2018 at 4:00 p.m.
Media G.I.R.L.z is a year-long program that gives girls the chance to be included in various media opportunities, be invited to participate in special events and attend business functions with senior GSSEF staff members, and to learn about public speaking, create talking points and practice business etiquette. And of course they'll have plenty of time to shine in front of the camera and have some fun too. 
Interested in learning more? Please contact Melinda Glasco, Director of Marketing and Communications at mglasco@gssef.org.