Silver Award Girl Scouts
The Girl Scout Silver Award is the highest award that a Girl Scout in grades 6-8 may earn.
When Girl Scout Cadettes focus on an issue they care about, learn the facts, and take action to make a difference, they gain the confidence and skills that will catapult them to lifelong success. It all adds up to the Girl Scout Silver Award—the highest honor a Cadette can achieve.  Download the Silver Award guidelines to find out how.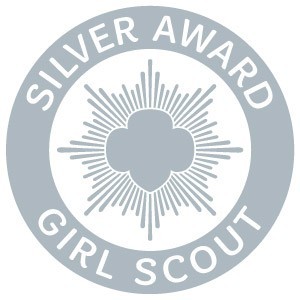 2019 Silver Award Showcase
This year the Silver Award Class of 2019 will be honored at a special open house style event where they will be showcasing their projects! Opportunities will include meeting CEO Lisa Johnson, Board Chair Tami Donnally and Gold Award Girl Scouts to inspire you to go for Gold!  
Brownie and Junior Troops, you can get in on the action, too! Starting September 23, a limited number of tickets will go on sale for girls and volunteers to attend. The cost is $3.00 a person and the registration link will be availble on your MyGS Account.
You can pursue your Girl Scout Silver Award if: 

You're in sixth, seventh, or eighth grade (or equivalent)



You're a registered Girl Scout Cadette 
 

You have completed a Cadette Journey
 

Girl Scout Silver Award Steps
 

Identify an issue you care about
 

Build your Girl Scout Silver Award team or decide to go solo
 


Pick your Silver Award project
 


Make a plan and put it into motion
 

Reflect, share your story, and celebrate