Silver Award Girl Scouts
The Girl Scout Silver Award is the highest award that a Girl Scout in grades 6-8 may earn.
When Girl Scout Cadettes focus on an issue they care about, learn the facts, and take action to make a difference, they gain the confidence and skills that will catapult them to lifelong success. It all adds up to the Girl Scout Silver Award—the highest honor a Cadette can achieve.  Download the Silver Award guidelines to find out how.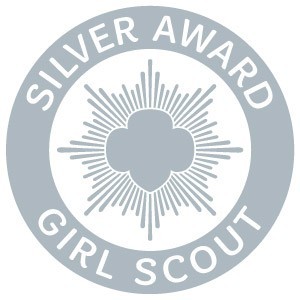 Congratulations to the 2020 Class of Silver Award Girl Scouts
In 2020, 82 inspiring Girl Scouts completed 40 projects that cover everything from protecting the environment to addressing social issues in their communities.Totaling over 4,000 hours of combined community service, these girls are a true inspiration and are blazing the trail for their future.
On Saturday, February 20, 2021 Girl Scouts and their families gathered at the Palm Beach County Convention Center to celebrate the 2020 Class of Silver Award Girl Scouts! At the event Silver Awardees presented their projects in an open-house style and recieved their award during a special ceremony just for them. A huge thank you to the Presenting Sponsor of the 2020 Silver Award Showcase, The Gina Rose Montalto Memorial Foundation
You can pursue your Girl Scout Silver Award if: 

You're in sixth, seventh, or eighth grade (or equivalent)



You're a registered Girl Scout Cadette 
 

You have completed a Cadette Journey
 

Girl Scout Silver Award Steps
 

Identify an issue you care about
 

Build your Girl Scout Silver Award team or decide to go solo
 


Pick your Silver Award project
 


Make a plan and put it into motion
 

Reflect, share your story, and celebrate