Silver Award Girl Scouts
The Girl Scout Silver Award is the highest award that a Girl Scout in grades 6-8 may earn.
When Girl Scout Cadettes focus on an issue they care about, learn the facts, and take action to make a difference, they gain the confidence and skills that will catapult them to lifelong success. It all adds up to the Girl Scout Silver Award—the highest honor a Cadette can achieve.  Download the Silver Award guidelines to find out how.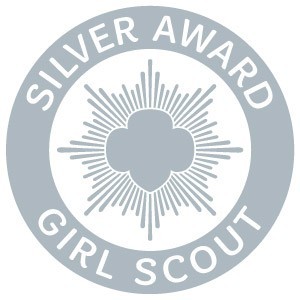 On Sunday, October 16 Girl Scouts from across Southeast Florida gathered together to celebrate the hard work and world-changing work of this year's Silver Award class. 62 Girl Scouts from across our council completed 25 Silver Award projects - pouring over 3,100 community service hours back into their communities! Each Girl Scout has made their own footprint, created their own legacy, and has begun to blaze a trail for their future.
Check out the full listing of the 2022 Silver Award Girl Scouts in our program >>
Thank you to the Gina Rose Montalto Memorial Foundation for providing this opportunity for our Silver Award Girl Scouts!

Learn how to lead Girl Scouts to the Silver Award and beyond with troop leader Kara Baxter. In this blog, Kara dives into her experience leading Troop 20646 from Daisy meetings to the High Awards - and she has some great tips on why you should stick out the tough times! Read the blog article >>

You can pursue your Girl Scout Silver Award if: 

You're in sixth, seventh, or eighth grade (or equivalent)



You're a registered Girl Scout Cadette 
 

You have completed a Cadette Journey
 

Girl Scout Silver Award Steps
 

Identify an issue you care about
 

Build your Girl Scout Silver Award team or decide to go solo
 


Pick your Silver Award project
 


Make a plan and put it into motion
 

Reflect, share your story, and celebrate