Fall into Girl Scouting with us this September for an exciting experience unlike any other! Families, volunteers, and troops are welcome to this open-house style event where you can explore the world of Girl Scouting and learn about this year's programs and events, all while having a blast. There will be a DJ, face painting, games, challenges, chance drawings and more! Don't miss out on this once-a-year opportunity!   
Continue >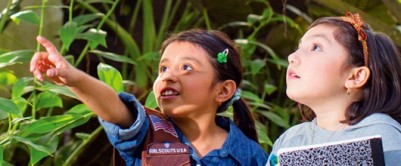 The future is Girl Scout green! Thanks to these 42 NEW badges, Girl Scouts will be prepared to become space scientists, cybersecurity experts, environmental leaders, explorers, and more! Get the scoop.
Continue >

Jordan from GSSEF and 23 other cookie entrepreneur superstars from across the country really showed the world their goal-crushing, world-changing superpowers through the Girl Scout Cookie Program this season, and we're so excited to celebrate them, and every incredible girl who entered! The winners will be heading to California in July for the Cookie Entrepreneur Experience of a lifetime—it's going to be EPIC. Get to know Jordan and the others now, and learn all of the amazing things they accomplished.
Continue >

On May 11, 2019, 18 outstanding Girl Scouts were honored at the 2019 Gold Award Ceremony in Parkland, Florida. These young women spent countless hours planning, creating and implementing their Gold Award projects and in return, they received the prestigious status of being a Gold Award Girl Scout!   
Continue >
Community Partners
Corporate Partners
Benefactors for Girls
Advocates for Girls